The Christians held in Thailand after fleeing Pakistan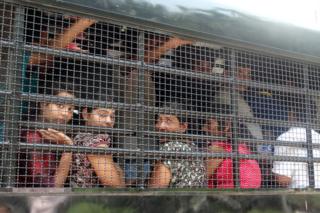 A BBC investigation has found that Thailand, a country known for its hospitality to tourists, routinely arrests and detains asylum seekers. Many are Pakistani Christians who have fled religious persecution in their own country. Some are children. And they are held despite being UN-registered asylum seekers, whom the UN is under a duty to protect.
The sound of the faithful in prayer and song bursts out of a small rented room where a congregation of more than 100 people have gathered for Sunday mass.
They would be risking their lives to worship like this in their homeland, where Islamist extremists force Christians to convert, or even kill them.
Leading the prayers is Pastor Joshua, a Christian from Lahore, in what is officially known as the Islamic Republic of Pakistan. Along with thousands of other Christians, he's had to flee to Thailand and still fears the people in Pakistan who punished him for converting from Islam to Christianity.
"My bone was broken - the one right above the heart. And they tried to cut my arm off," he says.
"My sister was murdered, she was burned alive, just because she spoke the word 'God'. They hate the word 'God' so much. She was burned for this reason alone."
The Pakistani Christians head to Thailand because it's easy to enter the country on a short-term tourist visa and in Pakistan's hostile neighbourhood there are few safe options closer to hand.
But there is hardly a welcoming committee in Thailand. The country doesn't want asylum seekers from anywhere. It is not a signatory to the United Nations Refugee Convention, and anyone without a valid visa or a work permit risks being arrested, charged with illegal immigration and jailed.
Thailand has allowed the UN refugee agency, the UNHCR, to step in and investigate the credibility of those claiming to flee persecution - a process with two possible outcomes, either repatriation or relocation to another country. But many of these families say they've been waiting years to be assessed by the UN and they have no access to work, education or healthcare.
As they await the outcome of their case, thousands of Pakistani asylum seekers set up temporary home in dingy rooms in a network of tower blocks on the outskirts of Bangkok. People who were once comfortably-off professionals arrive with just a few possessions, their rent and food paid for by local Christian charities.
And they live in constant fear.
The names of most interviewees have been changed, for their safety
Chris Rogers reports for

Our World: Thailand's Asylum Crackdown

on the BBC News Channel on 27 and 28 February at 21:30 GMT and BBC World News starting on 26 February (click here for transmission times)
Viewers in the UK can catch up on

the BBC iPlayer
Sabir hasn't seen her since and sobs that he is lost without her. He doesn't regret leaving Pakistan though, where he says a gang threatened to kill his family if they didn't convert to Islam. "Over here, the only fear we have is of the immigration police, nothing else," he says.
Inside the detention centre - faces have been blurred for anonymity
every month. It's alleged that 132 Pakistani Christians were arrested on one day alone in March last year. Altogether there are an estimated 11,500 Pakistani asylum seekers in Thailand, more than from any other country except Myanmar.
Is Islam a religion of peace or ......... Why are they committing such atrocities to Christians, do they have the right to do so? In the name of Islam they kill, rape, torture, murder, rob. Do we find these evils done to Muslims in Christian dominated countries? Why such evils and wickedness done to Christians in Muslim lands like Pakistan, Iran ISIS controlled lands, etc? Why is the Pakistan govt not putting a stop this great evil? Are the authorities in cohort with these wicked perpetrators? Judgment will come from God not only to these perpetrators but also to the whole NATION, so let the Pakistanis voice and pressure their govt to end these EVILS!